Blog Archive

Tuesday, August 31, 2010
Hi!
The new September Sweet Creations Blog Train - Welcome Back - has now officially departed. Here's my preview: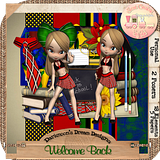 You can grab it
here
.
Be sure to check out all the train stations for some wonderful goodies!
Train Station Headquarters
Candys Treasures
Crystals Creations
DarkMoon's Dream
Jens Sweet Temptations
KnC Scrapz
P4DSDesignz
Be sure to leave some luvin' when your there!
XOXOXO,
Dani
My Other Sites

My TOU's
Blog Archive