Blog Archive

Wednesday, February 27, 2013
12:52 PM |
Posted by Unknown |
|
Edit Post
now available in all my stores!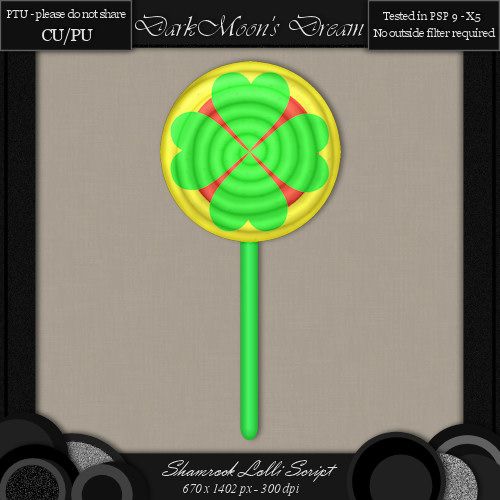 This script will make you a yummy Shamrock Lolli - perfect for St. Patricks Day or just for the fun and good luck.
Final size of lolli is 670 x 1402 px, 300 dpi. It ends in layers for further customization.
Script was tested in PSP 9 through 15 and does not require any outside filters or plugins.
PSD template is included in zip file as well.
The script will let you pick the colors for the stick, the outer circle, the inner circle, and the shamrock.
The script comes in two version:
V1 allows you to choose the colors as mentioned.
V2 allows you to choose the colors as well as adjust the color/brightness settings for further customization (no need to toggle script!).
Thank you for looking!
XOXOXO,
Dani
My Other Sites

My TOU's
Blog Archive