Blog Archive

Monday, March 1, 2010
Grand Opening of Enchanted Dreams Boutique!!
Enchanted Dreams Boutique
is now officially open for business. Come on in and check out the awesome sales (many kits as well as CU items for only $0.75, 03/01 through 03/08), and why not also scoop up the wonderful Collab while your there?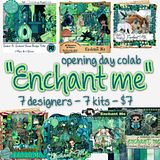 ONLY $7 or
Buy $5 worth of products
Add the colab
Use coupon code
enchantme10
and get it FREE!
XOXOXO,
Dani
My Other Sites

My TOU's
Blog Archive